From years past, you probably know I have a special love for the Oscars. Since 1998 my best friend and I have been in love with the gold statue and it's big annual party. We usually have a large party featuring food and drinks from each of the Best Picture Nominations. You can see our former parties here:
2011
,
2012
, and
2013
.
This year neither of us got it together. We did not see all of the nominated movies. We did not plan a party. We did not even get together to watch the Red Carpet Coverage or the show. Instead we dealt with children, illness, and snow storms.
We did however watch the Show and text each other regularly. Here are my top ten 2014 Oscar Moments:
1.
Red Carpet; when Best Supporting Actress Nominee Lupita Nyong'o arrived in the breathtaking blue gown with that diamond headband she literally made my heart race. Beautiful and elegant and oozing of Osc
ar worthy attire. In my opinion she out-shined everyone else.
2.
Red Carpet: Jennifer Lawrence keeps everything real to me. She is glamorous. She is an amazing actress that stole my heart in Winter's Bone a few years ago and I love rushing out to see her movies. But the reason I love her is so is so real. Every single interview I hear of hers I wish more girls could be as grounded in reality as she is. So, was I surprised to see her take a tumble on the red carpet last night? NO! Maneuvering those dresses in those heels; it is a wonder not more people tumble.
3.
Ellen DeGeneres as host. Yes, her jokes were little punchy. But she was funny. She was entertaining. And for goodness sake, she actually served PIZZA to the crowd!
4.
Ellen DeGeneres wardrobe changes. I loved her opening suit and her closing suit. I love that she served greasy pizza in a white tux! And seeing her dressed up like Glenda The Good Witch from The Wizard of Oz was just funny enough to make me laugh out loud at home by myself!
5.
Jared Leto's Acceptance Speech. He might have melted my heart by victims of discrimination and standing with and for them but it was his words about his Mother that make this one of my favorite Oscar moments! Who does not love a man who loves his Mother?
6.
Lupita Nyong'o's Acceptance Speech. "No matter where you're from, your dreams are valid." I wish that every child was reared to believe this. Think of how completely different our world would be.
7.
Matthew McConaughey's Acceptance Speech. There were actually some wise words in there. Mixed with that thing Matthew McConaughey has that makes us love him. I have watched his speech on youtube several times and just smile.
8.
Frozen winning Best Animations Feature Film and Best Song. Kristen Anderson-Lopez and Robert Lopez' acceptance speech was cute and surely the thing that makes Disney Magic Happen.
9.
Oscar's 2014 In Memoriam. This tribute each year is a personal favorite. I love reminiscing about their performances and what made them famous to us.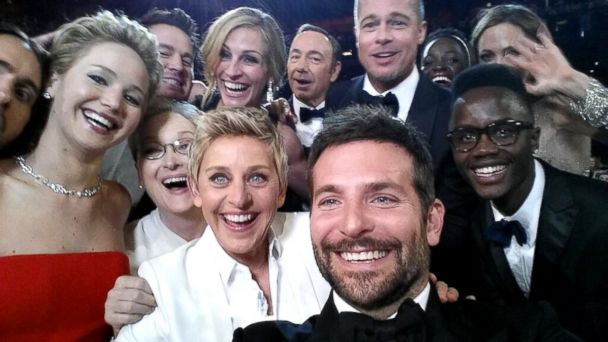 10.
Social Media. Unlike any other Oscar the feedback and interaction with this year's Oscar were immediate thanks to Social Media sites like Twitter and Instagram. From the beginning of her hosting duties, Ellen had the cell phone pulled out. We immediately went to Twitter to see if she was really tweeting and she was! I mean who has not seen the group selfie taken by Bradley Cooper during the Oscars? It is a fact that this one photo crashed Twitter as people retweeted it 2 million times during the show.
I spent the night flipping between facebook, Instagram, and Twitter just to keep up and see what was trending or not.
Those are my favorite moments. What were yours?