August has become our summer vacation month. Summer activities have usually wound down and we like to get one last hooray in before school starts. This summer we decided to travel our own state and visit a few places we have been dreaming of visiting but were a little too far for a weekend road trip.
Despite last minute vacation glitches we managed to pull out of Kansas City around 9:00 in the morning headed to Montauk State Park just outside of Licking, Missouri. Montauk State Park is one of three state parks where you can trout fish in Missouri. We are frequent visitors of
Bennett Springs
State Park but not Montauk, just because of the travel distance from our house. (Bennett Springs is about 3 hours and Montauk is double that.)
Setting up and settling in was relatively easy. We took a tour of the park and hiked around exploring the spring that feeds into the river. The Park stocks this river each night with trout. The fishermen like this river better for fishing than Bennett Springs. They say there is more space to fish in, which means a less crowded fishing environment, and larger fish to catch.
The women judge the campgrounds by the campsite and the activities available to keep the young non-fishermen kids entertained while the Dad's, brother, and papa spend hours each day fishing.
The Campground:
I wish we had brought our bicycles. We opted not to bring them as we were visiting the Ozark Mountains and honestly felt we would be required to bike up and down hills all day long. On the contrary, the park is relatively flat. At first inspection, it seemed that the shower rooms were really far from our campsite, but in actuality they were only a short walk away.
We lost all cell reception a mile or so before we reached the entrance to the park. We noticed there was wi-fi available in the park but we could not connect to it. We had no TV reception but that was not a big deal. Our electric box kept blowing the circuit but a quick call to the camp office and someone came out and replaced it for us. (We learned later it was not just a maintenance man but actually the park superintendent!) On Day 3 of vacation the superintendent came back to our site to fix the "broken wi-fi" which we had no idea was located between our two sites. As soon as he fixed it, we could once again interact with the outside world (still no cell service).
Our camp space was huge! The staff were nice host. They even came by and cleaned out our fire ring while we were visiting. My only complaint is that the trash dumpster was located right in our site and since the fish cleaning station was closed for repairs, there was a lot of fish parts going into the trash dumpster. Unfortunately, that made for some pretty foul smelling air. Our buddy, The Superintendent, did tell us that the dumpsters get emptied and washed out three times a week. That did help the later part of our stay but there was two days of unpleasantness to get through!
Hiking:
There are hiking trails at Montauk State Park. There was a short hike to the spring as well as a Lake Trail. Both of these hikes were easy and the short people in our party loved hiking them. We passed the hatchery, the lake, and we saw a variety of wildlife even during the short hikes.
We did convince the kids to hike the Pine Ridge Trail despite it having a rugged label. The Pine Ridge Trail is listed as a 1.5 loop trail. I think our girls were finished before we even hit the 1/4 mile point. That is when the complaining started. By the time we were 1/2 of a mile into it, the girls' complaints were getting more desperate:
Short Person #1
: "Mom, I think there are ticks on my socks!"
Mom #1
: "No, honey, those are not ticks, that is dirt. You are fine, let's just keep going!"
Short Person #2
: "Mom, there are ticks on my legs and they are crawling all over!"
Mom #2
: "There are no ticks, you are fine, stop complaining!"
Big Brother #1
: "Those are not ticks, you are sweating and it is tickling your legs."
By the time we reached the 3/4 mile point, it was obvious to all of us adults that in fact we had walked through a nest of seed ticks and they were hungrily crawling up our bodies at a very fast pace! We rushed through the hike as fast as possible, went straight to the showers to wash as many off of us as possible.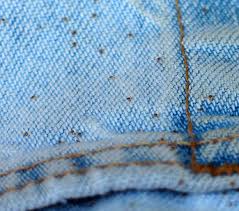 In case you have never seen seed ticks before, I found this photo online. Those might look like oil spots on the jeans but in fact they are seed ticks. It looks us hours to remove all we could find. And if that were not enough of a vacation time commitment, it also required a trip into Licking the next morning to visit a laundry mat so we could wash all clothing (including our shoes) to really make sure we had eliminated them.
And as if this were not enough, I should also say that we not only were eaten alive by the seed ticks but we also encountered more than our share of spiders, spider webs, and apparently mosquito and chiggers. We have been home for nine days and our bodies are still recovering from being the main course at the human buffet table.
Swimming:
There is no swimming allowed at Montauk State Park. Or wading for any purpose other than fishing. Or canoeing. The sole purpose of the river at Montauk State Park is for trout fishing.
However, with that said, the
Ozark National Scenic Riverways
is very near to the state park. A short drive outside the park will lead you to Tam Vat, or other areas on the river perfect for swimming. I should warn you, the water at Tam Vat is near to the spring and therefore it is cold. Very cold. That of course, did not stop our short people from playing in the water.
Sight-Seeing:
My mother has a first cousin that lives in Licking, Missouri just a few miles from Montauk State Park. He invited us to go exploring with him and his family on our second day of vacation. We arrived early and the girls were able to assist in doing chores of their animals before we headed out of a day long trip.
The first place my second cousin took us to was my Great Grandparents grave sites. My mother has longed to re-visit this place as I think the last time she was not yet in kindergarten. In addition to the cemetery, we also drove past their former property. Some of the land has been redeveloped into a shooting range, so maybe the landscape has been altered but I can say it is not at all what my four year old brain remembered.
After we chased my Mendenhall family roots, the cousins took us to
Alley Springs and Alley Mill.
The mill is a 100 year old grist mill near a natural spring that pumps out 81 million gallons of beautiful turquoise water a day. The water feeds into Jack's Fork River and Current Rivers.
The Mill is not functionable but many of the tools used to grind flour 100 years ago are still located inside the mill and are available not just for viewing purposes but we were able to open them and explore how they actually operated. What is funny about Alley Springs is that as I am standing looking at the beauty of this bright red building surrounded by turquoise water, I got the largest sense of de ja vue. I knew I had never been there before so it took me a few moments to realize, I had seen this building before; on an old calendar hanging in my growing up home!
A nice hiking trail surrounds the spring and leads you along the river's edge. The rocky bluff to the right of the river is full of small caves that our short people enjoyed poking their noses (as well as whole bodies into).
After Alley Springs, we headed to a public access area on the Jack's Fork for a mid-day swim. The water was perfect! Clear as you can imagine, crisp and cool but not cold and frigid! The short people had so much fun jumping off the log embedded in the river. We watched people cliff dive into a deep pool right across the river from where we were. What a wonderful day to spend a summer day!
After our swim, we headed in another direction from Eminence, Missouri to visit Rocky Falls. Rocky Falls is a shut-in, a narrow passage way or a constriction in a waterway. Rocky Falls is on the Current River and has a steep cascading waterfall that empties into a deep pool of water. People from all over flock to the area to sit in the water, slide down the rocks and just enjoy this geological space.
The short people loved it! The mommies were very disappointed that we did not bring our swimsuits! Instead we settled for cooling our toes, our feet, ankles, and maybe even calves in the water. If Rocky Falls had not been 2 plus hours away (one direction) from our campsite we might have returned to play another day!
Alley Springs, Rocky Falls, as well as Round Springs, Big Springs, Blue Springs, and Welch Springs are all located within minutes of Eminence, Missouri and are all part of the
Ozark National Scenic Riverways
. They are surrounded by National Park Services and have many campgrounds. This area is also part of the
United States Bicycle Route System (Highway 76)
so watch out for bicyclist as you visit this part of the state! We encountered a group from Germany during our time here.
The Fishing:
Despite the fun we had exploring a part of the state we had never visited, the men folk never left the state park. They came all this way to fish and fish is what they did!
They got up early, they fished until the bell rang in the evening. They caught large fish. They caught small fish. They kept some fish. They threw back some others. Lines got tangled. Daily limits were met.
Other odd things happen when you least expect them to. The Husband ran into baseball friends of ours at the lodge one day. They were down to enjoy the canoeing on the Current and Jacks Fork Rivers and happen to come to the lodge for dinner one night. The Husband invited them to try trout fishing and they did. (Is it harder than it looks? I promise you should keep trying!)
We caught enough fish during our four days of fishing to host a fish fry on our last night. Threat of storm did not prevent us from enjoying the freshly caught trout.
To summarize, fathers taught sons a few lessons. Students might have out-fished their teachers. Best friends shared more than a few frustrations and developed a deeper appreciate for how tough it is to get the fish with a little mouth to open up and bite the tiny fly. But as our time at Montauk State Park came to an end, everyone agreed that the any vacation that includes trout fishing is a good vacation!