The Kansas City Royals won The World Series this past weekend.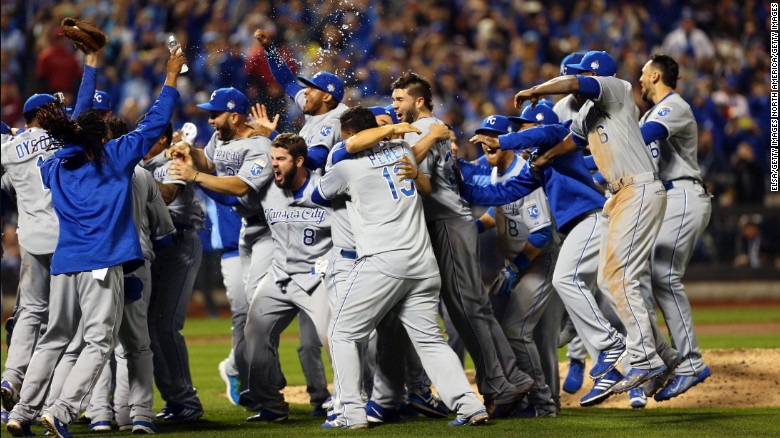 Yes. They. Did.
We were proud last year when our last place
Royals came back and clinched a wild card ticket
. They were the Cinderella story of baseball last year and fought their way to the World Series only to lose out in Game 7 to the San Francisco Giants. We did not get discouraged. If you would have asked any Royals fan in Kansas City, we would have told you on Opening Day this past Spring that this was going to be our year. We had unfinished business.
This championship has given something more than a giant trophy and bragging rights to our city. It has given us memories that will last a lifetime. It has given us shared experiences to talk about. We have united in ways past winners may not understand. For these things, I am thankful to the Kansas City Royals. As you glance through my Victory Parade photos, I will give you some of my favorite moments from this years road to reclaiming the crown.
If you are a sci-fi fan, this was the year the Chicago Cubs were suppose to win the World Series. Royal's fan just quietly smiled at all of the Back to the Future hype because we knew the screenwriters got it wrong. This was our year.
In terms of highly memorable moments: Game 4 of the American League Division Series ranks up there! Eighth inning and the Royals are down 6 to 2 Houston Astro fans (and a few KC Royals fan according to my Facebook news-feed) prematurely gave The Astro's the win. Even the Texas Governor Greg Abbott tweeted his congratulations to the Houston Astro's for advancing to the American League Champion Series. However, Royal's fans have learned that our team takes advantage of every single inning in baseball and sometimes just sometimes our best baseball is played in the 8th or even 9th innings. We came back and won that game 9-6 and tied the series up. Two days later we were moving on to the American League Championship Series.
Blue Jay's Outfielder, Jose Bautista (former Royal by the way) became the second most disliked person to Royals fan's when he fake threw a ball at Kauffman Stadium to Royal's fans. We will all remember how good it felt to head into Toronto Canada leading the series with the Blue Jays 2-0? We hardly blinked an eye when The Royal's lost game three of that series. We ended that series 4 wins to 2 after six games.
Wondering who the most disliked person is to Royal's fans? Joe Buck. Need I say anymore. Two seasons of listening to Joe Buck's inability to say a single positive thing about The Royal's and then he goes on the MLB Network on the morning of Game 5 of the World Series and says we might be the best team he has covered in 18 years. Anyone else confused? Do I dare ask, too little too late?
I am blessed to have watched so many games with friends during this post season play. Game One of the World Series Championship I watched with three co-workers in a hotel lobby during a business trip. We took a lot of razzing from locals. We were in the middle of St. Louis Cardinal's Country. (MO is a very decisively split state and red fans have no use for blue.) Despite the razzing, we held strong in our faith and wore our blue proudly. We also showed up to work the next day super tired, with red eyes, and big smiles after staying up for all 14 innings. Our heads were high because we had been victorious!
Game 4 of the World Series was held on Halloween Night. Trick-or-Treating started early in my neighborhood, everyone wanted to be home before first pitch. We watched the game on a big screen in our driveway with our neighborhood friends and our camping buddies. Another 8th inning rally occurred and we walked away with a win and leading the series 3 to 1.
Game 5 of the World Series, the Royals are trailing The New York Mets. I never once got worried. As I have stated before, we come alive in the 8th and sure enough, the team did not disappoint. We tied that game up in the 9th and sent The Mets into extra innings. Christian Colon got the hit that drove Dyson home giving us the lead. We went on to put up a few extra "insurance" runs that we ended up not needing. The Royals shut the Mets down 1-2-3 in the bottom of the 12th.
From the comfort of my own bed, weary eyes, The Husband and I heard the fireworks go off in our neighborhood as strike three was called. We woke The Short Chic up. We did not want her to miss the excitement. We called The Boy in college. We went to bed with smiles on our faces knowing we had just won our second World Series Championship.
We knew a lot of people would attend the Victory Parade. In 1985 there was an estimated 350,000 in attendance. My work was two blocks off the parade route and since I have secured parking I knew I would have very little difficulty getting to the parade. I invited my Momma to come up and watch it with me. Then The Short Chic's school cancelled and she came along as well.
The camaraderie in the city has been unbelievable throughout the playoff season. Everyone is so nice to each other. So patient. That is what I saw at the parade. I watched a Kansas City Police Officer deliver cotton candy to a group of people because they were on the opposite side of the street.
Elected Kansas City officials started the parade off. I was happy to see Mayor Sly James. I followed many of his tweets during the playoffs with great amusement. Some might have felt we needed a little less public officials but I know how much work public officials put into making these things happen. This is there city too. We can wait another minute or two to see the Champions.
George Brett and Frank White have been baseball royalty in this town for more than three decades. It was very nice to have them at the parade to hand that torch over to new baseball royalty. Team mascot, Sluggeerr, and Mr. W himself were a part of the parade. Two people I felt should have been there that were not, TechNine and The Marlin's Man. They have become such a staple of the crowd behind home-plate, it would have been natural to have included them.
The Royal's players rode in the back of Chevy Silverado's. Lo Cain was the first player. Alex Rios followed behind him and then Alex Gordon completely surrounded by his family. Of course, Christian Colon received a loud crowd welcome. So did Eric Hosmer. I am still not sure if the young ladies that were standing near me have recovered from the near Hosmer experience.
Some players rode alone, others with their families, some with their parents, and even Moose rode with his dog. They all had banners and shirts that said "Thanks Kansas City".
Pitchers, catchers, infielders or outfielders. Everyone has their favorite Royal and I think they were each given a Royal greeting in the Victory Parade. I think they were saying thank to us but we were also saying "Thank You" to them. They brought this excitement here. To our city. To Kansas City.
The little part of the parade we were in was crowded. But we were not uncomfortable. Not at all. In fact, my cousin arrived from out of town and he was able to find us using a drop pin. The Husband attempted to go to the Rally. He said it was so crowded he left shortly after he arrived. The total route was 2.5 miles long. In the end 800,000 people jammed that route. There were only 3 arrest that day. There was no looting. No destruction. It was in fact a day as perfect as a day involving nearly a million people could be.
I don't say it was perfect to ignore that we had some hiccups. From my work window I could see the interstates back up as soon as they shut down the downtown streets. There was not enough parking. On my way home, I joked because it looked like the Zombie Apocalypse had occurred. Vehicles were left anywhere people could find a spot to park. That meant the shoulders of interstates or even the grassy areas between highways. People were encouraged to take mass transportation but there was not enough buses to meet the demand.
Cell service could not keep up with the amount of people in one location. I saw one photo on my news feed that a fan held a sign that said, "Cell Service like it's 1985. It might have been edited after the fact, but the sentiment was true. No one was accessing cellular data while at the parade!
There was not any food. Parade attenders had been encouraged to not bring anything to the parade; backpacks, coolers, or even chairs. People stood in line for up to three/four hours before the parade started and the parade was scheduled right over the lunch hour. I really wish Kansas City would have reached out to the multitude of food trucks in this area and had them park on the shut down streets to serve the crowd. I know The Short Chic would have done about anything for a hot dog vendor! The Sprint Center finally sent out a cotton candy vendor, so you can imagine how happy the fans were to see bags of sugar hitting the streets.
The parade ended with the last two big stars. Salvador Perez was the series MVP. The crowd chanted SALVY, SALVY as he drove past.
Ned Yost effectively ended the parade. He held onto the World Series Championship trophy. Not the replica the parade started off with but the actual trophy.
I went back to work after the parade past me. I was not going to fight the crowds to the rally site. I watched highlights on the news that night. I will watch the entire rally in re-air this weekend. Some have criticized but Jonny Gomez but he made me smile as he commanded the stage. Jeremy Guthrie showed us first hand one of the ways this team went from last place to Champions by focusing on positive moments.
Thank you, Kansas City Royals. Thank you, Kansas City, Thank you fans. Now, if you are like me you will use this off season time to catch up on the sleep we missed during this post season play!